Shopping Online Safely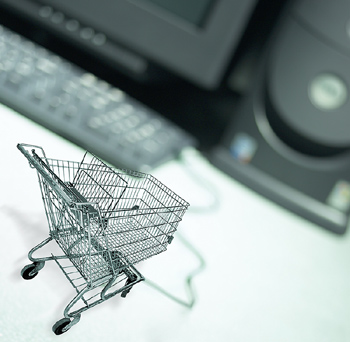 There can be real advantages to shopping online: Prices are sometimes cheaper and product selection greater; it's often easier to find information about a particular product; parking isn't an issue; and the Internet is open 24 hours a day. But online shopping also has inherent risks and disadvantages, so here are some tips to keep in mind whenever you decide to shop over the Internet.
The shop
When you leave your house to go shopping, you have the benefit of visual cues to help you decide which shops look safe and reliable. As you walk around a store, you can see how well it's maintained and managed, check out its product line, and observe the staff to assess their customer service. These cues make a difference-here's a case in point: You might buy a second-hand book from a dilapidated shop with boxes of merchandise piled up in the corner and a grumpy old shopkeeper glowering at you from the till, but you probably wouldn't buy an expensive stereo there.
You don't have the benefit of these kinds of visual cues when you shop online, so as a general rule of thumb, buy from the companies you're familiar with-whether through first-hand experience or word of mouth. If that simply isn't possible, do a little research on a company before you give them your business. An excellent way of doing this is to use the Google search engine at www.google.com and look for any store reviews or customer service complaints. Other good resources are available at www.consumeraffairs.com and www.shopping.yahoo.com.
And be sure to review the company's website to make sure its not the online equivalent of the dilapidated old shop. Look for contact information-any legitimate company will supply information about themselves, including a street address, phone number, and email address.
The product
Once you've decided which retailers you feel comfortable dealing with, you'll need to do some research on the products themselves.
Read the product information carefully to make sure you're getting what you want; for instance, make sure any computer accessories you buy will work with your existing equipment. Sites like Epinions (www.epinions.com) offer customer reviews, and search engines like Google will help you find product reviews from consumer organizations and/or product magazines.
Check the retailer's policy on returns and exchanges to find out what your options are if an item turns out to be defective. This is especially important with computer equipment, as the return policies for computer equipment are particularly strict.
As a Canadian customer, there are a few extra things to keep in mind. Read the shipping details carefully to figure out whether a foreign retailer ships to Canada (unfortunately, many do not). If you're buying electronic items, you might want to check whether they meet the standards of the Canadian Standards Association (www.csa.ca) first. If you're importing electronic equipment, you'll also have to check whether the manufacturer will give you a warranty that's valid in Canada-some companies, especially those selling computer equipment, have separate product lines for Canada and the US (for example), and don't offer a Canadian warranty for a product purchased internationally.
Watch out for hidden costs such as shipping and handling, local taxes, exchange rates, and customs and excise duties. Courier companies like FedEx and UPS will charge you a hefty brokerage fee for any customs and excise payments. The USPS (US Postal Service) fee is far lower (around $5 Canadian on top of any customs and excise fees), but the USPS is considered less reliable for expensive purchases. So choose your shipping company accordingly.
The transaction
Make sure the retailer is using a secure webpage to collect your financial information, and make sure you're using a secure browser. Your browser normally tells you when you're on a secure webpage by displaying a padlock (or key) icon in the locked position. Also make sure that the operating system the browser is running under is secure and free of viruses and other malware*-you don't want a "password logger" hacking in and stealing your passwords and credit card numbers.
Bear in mind that a secure browser only protects your information while the data is being transferred to a retailer or online bank. Make sure the retailer uses a reputable online banking company and be wary of retailers who plan to store your financial information. "One-click" shopping may be convenient, but the fact that your financial information is stored online means you must be especially careful with your user id and password. If you're sharing a computer or using a public computer (at an Internet café, for instance), make sure you log off as soon as you've completed your transaction.
Always check the company's privacy policy to make sure your private information will stay that way. Read the order form to make sure they're not automatically signing you up to receive advertising information or newsletters. And as you fill out the order form, make sure you're not agreeing to purchase or receive anything else in addition to the item you've actually selected-some retailers will add "special deals" to an order form, which you then have to "unselect."
If you're buying a high-priced item, consider purchasing it through an escrow service such as Escrow at www.escrow.com (as you know, an escrow service is an impartial third party licensed to hold people's money in trust). This is especially important if you're buying items from anonymous sellers using sites like Ebay (www.ebay.com).
Here's how it works: The online shopper sends their payment to the escrow service, and after the escrow service confirms payment, the seller sends the item to the purchaser using a trackable shipping service. After the purchaser receives the item and confirms that it is, indeed, what they ordered, the escrow service forwards the payment to the seller. (Escrow fees typically depend on the transaction amount and the payment method.) A final word of caution: Make sure the service you're using is a legitimate escrow service, not a front created by an unscrupulous seller!
The final steps
First, keep a record of your transaction. Print off a copy of your purchase order, invoice, confirmation number, shipping number, and any other information you're given. Second, make sure you have the proper contact information in the event that there's a problem with your order. Third, check your credit card statement to make sure you've been billed the correct amount.
As more and more companies choose to sell merchandise over the Internet, online shopping will become even more common. Unfortunately, the distance between the purchaser and the seller introduces certain risks you should address if you really want to protect yourself. Taking these basic precautions when searching for a retailer, choosing a product, and making a transaction will make the entire experience a whole lot safer.
Endnote
* I wrote about adware and spyware in the October 2003 instalment of Web Works, and about viruses and malware in December 2003 and October 2004. Each of these issues of Beyond Numbers is archived on the Institute website at www.ica.bc.ca for your reference.